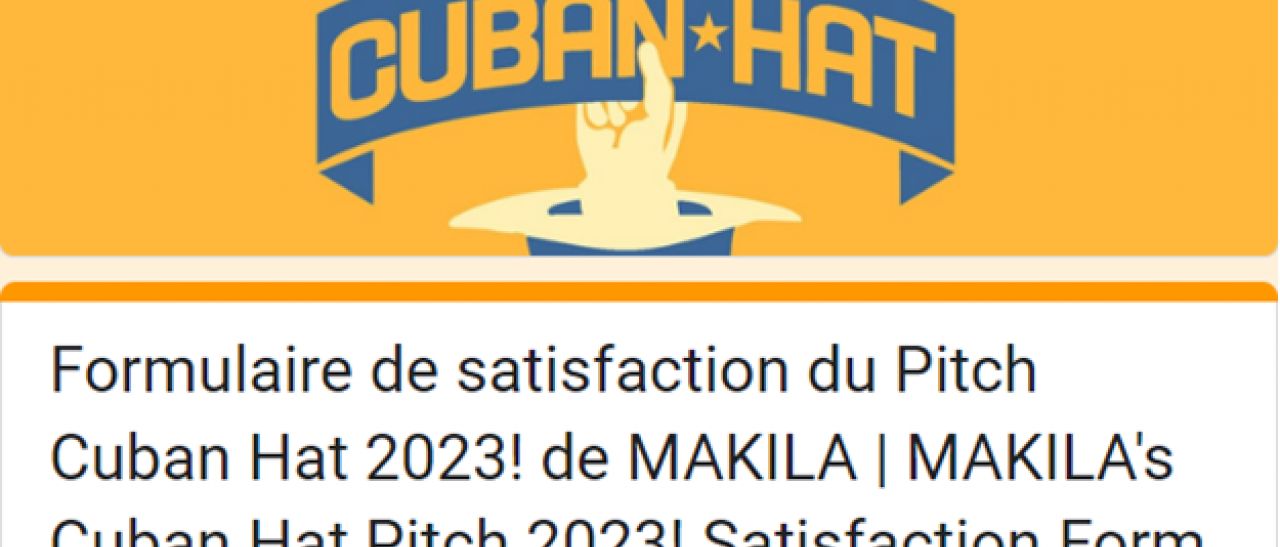 SONDAGE | Pitch Cuban Hat 2023
MERCI! Sondage à remplir | Pitch Cuban Hat 2023
💜 [ M E R C I ! ] 💜
Makila tient à vous remercier d'avoir participé au
Concours de pitch Cuban Hat 2023
(ENGLISH VERSION BELOW)
Nous tenons à vous remercier du fond du cœur d'avoir été présent.e.s lors de cette merveilleuse soirée du Pitch Cuban Hat 2023 tenu ce 18 avril dernier au Ausgang Plaza. 🎊
Vous étiez plus de 140 personnes à nous rejoindre pour cette première édition 100% MAKILA et nous ne pouvons être plus choyés de vous avoir compté parmi nous! 🔥
Votre présence a contribué à rendre cette occasion spéciale et mémorable en participant en tant que public engagé lors des pitchs fascinants de nos cinéastes émergent.e.s. 🙌
Nous souhaitons encore une fois féliciter les gagnant.e.s de cette édition, qui se sont distingué.e.s par leur brillante performance et qui se sont vu.e.s repartir avec des des prix et récompenses en services d'une valeur de plus de 20 000$! 🏆
En 1ere place: Danielle Kouhio Depri pour 𝑁𝑂𝑅𝐴.29 𝐴𝑁𝑆.39 𝑆𝐴
2e: Jesse Freeston pour 𝑇𝐻𝐴𝑇 𝑊𝐻𝐼𝐶𝐻 𝐶𝐴𝑁𝑁𝑂𝑇 𝐵𝐸 𝑆𝑃𝐿𝐼𝑇
ex-aequo en troisième place!:
3e: Charbel El Melhem & Andres Molina pour 𝐾𝐴𝑅𝑀𝐴
&
3e: Giulia Frati pour 𝐻𝑎𝑛𝑑𝑙𝑒 𝑊𝑖𝑡ℎ 𝐶𝑎𝑟𝑒
Nous tenons également à remercier tout.e.s les participant.e.s qui ont partagé leur passion et leur vision avec nous. Votre créativité et votre talent ont été véritablement remarquables. 💜
Nous avons été époustouflé.e.s par les projets incroyables de l'inkubateur 2021-2022 et sommes ravi.e.s d'avoir pu partager cette expérience avec vous tou.te.s où l'art émergent et les voix plurielles ont pu être mis en lumière. ✨
Par ailleurs, nous aimerions recueillir vos impressions sur cet événement afin de continuer à améliorer nos futurs projets. Nous vous invitons donc à prendre quelques instants pour remplir notre formulaire de satisfaction.
➤ Voici le lien vers le formulaire de satisfaction ICI
Vos commentaires sont précieux et nous aideront à mieux répondre à vos attentes.
Nous souhaitons également exprimer notre profonde gratitude envers nos partenaires et commanditaires pour leur soutien inestimable. Votre contribution a joué un rôle essentiel dans le succès retentissant de cet événement :
𝗣𝗮𝗿𝘁𝗲𝗻𝗮𝗶𝗿𝗲𝘀:
Fonds des médias du Canada | Conseil des arts de Montréal | SODEC
𝗖𝗼𝗺𝗺𝗮𝗻𝗱𝗶𝘁𝗮𝗶𝗿𝗲𝘀:
Pimiento | CineGround | SLA Location | TOPO - Centre de création numérique | Vidéographe | Artem studio juridique | INIS
𝗔𝗻𝗶𝗺𝗮𝘁𝗶𝗼𝗻:
Diego Briceño | Guasá Guarriors
Encore une fois, nous tenons à vous remercier d'avoir été parmi nous. Nous sommes honoré.e.s d'avoir pu partager cette soirée spéciale avec vous et nous nous réjouissons de vous retrouver lors de nos prochaines initiatives.
N'oubliez pas de nous suivre sur nos réseaux sociaux pour rester à l'affût de nos annonces et événements à venir durant la saison estivale! 🌞
Concours de pitch Cuban Hat 2023

Pour plus de photos de notre dernier évènement cliquez ICI | For more pictures click HERE

📸 Photos: Cesar Cubillan
-----------------------------------------------------------------------
💜 [ C H E E R S ] 💜
Makila would like to thank you for participating in the
Cuban Hat 2023 Pitch Competition
➤ Please fill out the satisfaction form HERE
We would like to thank you from the bottom of our hearts for attending this wonderful Cuban Hat 2023 Pitch night held this past April 18th at Ausgang Plaza. 🎊
You were more than 140 people to join us for this first 100% MAKILA edition and we couldn't be more blessed to have you with us! 🔥
Your presence helped make this occasion special and memorable by participating as an engaged audience during the fascinating pitches of our emerging filmmakers. 🙌
Once again, we would like to congratulate the winners of this edition, who distinguished themselves with their brilliant performance and walked away with over $20,000 worth of prizes and service awards! 🏆
In 1st place: Danielle Kouhio Depri for 𝑁𝑂𝑅𝐴.29 𝐴𝑁𝑆.39 𝑆𝐴
2nd: Jesse Freeston for 𝑇𝐻𝐴𝑇 𝑊𝐻𝐼𝐶𝐻 𝐶𝐴𝑁𝑁𝑂𝑇 𝐵𝐸 𝑆𝑃𝐿𝐼𝑇
Tied for third place!:
3rd: Charbel El Melhem & Andres Molina for 𝐾𝐴𝑅𝑀𝐴
&
3rd: Giulia Frati for 𝐻𝑎𝑛𝑑𝑙𝑒 𝑊𝑖𝑡ℎ 𝐶𝑎𝑟𝑒
We would also like to thank all the participants who shared their passion and vision with us. Your creativity and talent were truly remarkable. 💜
We were blown away by the incredible projects from the Inkubator 2021-2022 and are thrilled to have been able to share this experience with everyone where emerging art and diverse voices could be brought to light. ✨
Furthermore, we would like to collect your feedback on this event in order to continue to improve our future projects. We therefore invite you to take a few moments to fill out our satisfaction form.
➤ Fill out the satisfaction form HERE
Your feedback is valuable and will help us to better meet your expectations.
We would also like to express our deep gratitude to our partners and sponsors for their invaluable support. Your contribution has played an essential role in the success of this event.
Once again, we thank you for being with us. We are honored to have been able to share this special evening with you and we look forward to seeing you at our upcoming events. Don't forget to follow us on our social media channels to stay up to date with our upcoming announcements and events during the summer season! 🌞